In this issue:
Behavior Training Group Classes
Board and Train
Our Group Classes Schedule
Pit n Proud Private Training
Canine Life and Social Skills
Leadership and the e-collar
Who's fear is it really?
Behavior Problem or Training Problem?

I had a dream about dog training a few weeks ago that really clarified for me the journey I have taken these last three years from punishment/correction based training to natural dog training. This dream illuminated the basics of why people need to use harsh, or overly controlling methods in training a dog. The entire dream was about the journey the Brynda and I have taken these last three weeks due to the homework from Therapy Dog Class..
There are two major schools of dog training and behavior modification in existence today. There is the school of "the dog must be controlled" and the school of "show the dog how to live in a human world".

I bet you thought I'd say there is the school of positive punishment / negative reinforcement and the school of positive reinforcement / negative punishment. The truth is that those two schools are basically identical. Both those philosophies lean towards control of the dog.
Whether you are using an e-collar or a clicker, the goal is control. One way is control at any cost, the other is control through micro management. Both come from the fear that the dog, when not controlled, will try to dominate us or others. The fear is the fear that since dogs come from wild animals that their basic nature is one of aggression and eat everything before it eats you.
Fear is something that you can manage, control and in some cases remove entirely. Some fears serve a useful purpose, for instance the fear of fire stops us from lighting tinder in a dry forest. One of the most prevalent fears people have is that of losing control. This is the fear that if you don't manage to control the outcome of future events, something terrible will happen.
The fear of losing control is a demand for certainty in a world that is always tentative and uncertain. It is precisely this unrealistic demand that creates the fear. You think that you must accurately predict and manage the future.. People with a fear of losing control demand perfection and perfect control of everything and everyone. What they are saying is, "If I could control these people, I could guarantee the results." The truth is that control is an illusion, especially if you're talking about the life or lives of others, control is an illusion; influence is what matters.
Whether it's with your kids, your employees, your peers, or even your pets, the more you seek to exert control the less you'll actually have. Someone who must have control will do whatever he or she can to keep others from changing anything. The more you seek to contain others, the less successful you'll be. The more you seek to control others, the more your attitudes will tend towards "the end justifies the means". Those "means" can be on either end of the spectrum - violence, intimidation and punishment or micro management of every aspect of someone's life or some activity.

Those who understand that control is not really theirs to have, but seek rather to shape the course of events through influence, find themselves far more successful at accomplishing their objectives, and far less negatively affected when they don't.
This understand of the motives and emotions behind dog training methodology, is what I realized in the middle of this dream. My journey with Brynda these last three weeks, has been one of mutual understanding and respect built through communication. All from a simple exercise during a walk. I didn't have to control her, correct her, guide her, lure her or coax her. All I had to do was communicate with her, talk to her, listen to her and learn who she is. The result this morning while she was being the demo dog for Righteous Recalls was awesome. She was totally focused on me, waiting for my next request, totally willing to work for the entire hour. She only once tried to mooch treats from the others when normally she would be ignoring me and trying to get as many of all the treats available as she could.
Think about your motives and emotions when you are dealing with your dog, and even with your life. Is your method of handling others, of dealing with future events, based on fear or communication.
Ask The Trainer at Tucson Cold Wet Noses Rescue

Along with the previous article about the dream I had, I woke up this morning, not with the remembrance of a dream, but a realization and sort of epiphany about true leadership, training methods and what constitutues real training and behavior modicafication.
I feel that due to advertising and the availability of e-collars at major pet store chains, the e-collar is becoming the answer to all canine issues - and not necessarily just issues of aggression, but also in actually training your dog to sit, down, heel, come and stay.The e-collar is becoming the first tool used instead of the last result for many trainers.
How do I feel about e-collars? I feel they have their uses, in handling aggression when all other methods have been exhausted, or the finances of the owner have been exhausted, and the only other recourse is to euthanize the dog. In other words, to save a dogs life.
While in theory I can say I would only use shock as a last ditch effort to save the dog's life when no other method has worked, I have only had to do this once and there were only three "shocks" involved. More often than not these cases involve an owner who mistakenly believes that shocking the dog is an easy magic bullet solution . More often then not, the owner gives up because it's too much work.
If you have a toothache and take strong enough drugs the pain will go away. Cure? Marketing. Nothing but marketing. The modern human wants everything right now, without effort, with guaranteed results and preferably cheap. Fast food, weight loss, dog training. The modern human does not want the inconvenience of changing habits and lifestyles (even if temporary), does not want the inconvenience of investing time into weeks of training, the inconvenience of understanding basic dog behavior and basic learning theory. Smart marketing sells people what they want. It is primarily about selling.
In my experience, those trainers who actually use e-collars are also the ones holding on for dear life to dominance theory and the pack way of canine life. Many of the positive reinforcement trainers have moved away from the pack and dominance heirarchy theories as science advances and more is known about the true state of canine social interaction. The correction and positive punishment based trainers, as a rule, have not.
My realization this morning revolved around this, to me, dichotomy. To have true leadership, to really be a pack leader doesn't require positive punishment, it doesn't require the use of punitive tools to "correct" the "bad" behavior and get compliance. A true leader inspires his troups, becomes their role model and leads by being able to construct a plan and follow it through. How does this fit with e-collar usage?
Let's take just general obedience training. I stopped doing obedience training just for the sake of obedience training long ago for this very reason. Obedience means you OBEY - no matter what. the e-collar fits right into that model - you OBEY or you get a "tingle" that basically is warning you that if you don't do this right, it could get worse.
Is this leadership? What would your response be if your boss shocked you everytime you didn't do your job exactly right? I had a boss like that once. Everytime I made a mistake or didn't do it exactly the way he wanted, I got my pay docked and screamed at for "thinking stupid". I ended up defying him at every chance
I can see that it's dominance - dominance is all about control, and specifically control of resources when you are discussing canines. Obedience training is supposed to allow the owner control over the actions of their dog thereby by default giving the owner the control of the resources.
However, it does not show the dog who really does have the control, it only instills a sort of fear that if they try to do anything not proscribed they will feel pain. So again I ask, where is the leadership?
So you add in the "who's fear is it really" to the lack of true leadership in regards to correction based training, which includes the e-collar and it sounds more like someone with a fear of spiders reacting adversely to a spider crawling up his arm - whack whack whack it's dead !!!
Seize The Leash - Newsletter Vol. 3 Issue 5
Behavior Training Group Classes
Our new schedule of classes has been a resounding success, so we will be continuing with 6 week classes. We will have a 8am and 6pm class daily except Monday. We are also continuing with the successful decision to conduct all classes at our new facility. The dogs are responding better, learning faster and calming quicker around the other dogs. Apparently the wide open space of the park was detracting from the process.

The cost is $120.00 for each 6 week class. A discounted rate of $108 is offered for those who adopt a rescue from TCWN, HOPE Animal Shelter, Arizona Desert Rotti's and Pals, Arizona Poodle Rescue or Arizona Airedale Rescue within 30 days of the adoption.
Schedule
Fill out our Training Services form and get started today!!
Group Behavior Training -Rehabilitating the Reactive or Aggressive Dog
SATURDAY at 8am at our facility Sign Up Here
SUNDAY at 6pm at our facility Sign Up Here
Life Without A Leash: Righteous Recalls
THURSDAY at 8am at our facility - Sign Up Here
Puppy Basics - AKC STAR Puppy
TUESDAY morning 8am, THURSDAY evening 6pm at our facility
This 6 week program includes the AKC STAR Puppy evaluation and certification Sign Up Here
Out of Control! Surviving Adolescence & Implementing Leadership
WEDNESDAY 8am and FRIDAY 6pm - Sign Up Here
Shy Dog Workshop
WEDNESDAY, 6pm. - Sign Up Here
APDT Canine Life and Social Skills Program
SATURDAY at 6pm or SUNDAY at 9am. - Sign Up Here
Puppy Beginning Agility and Agility Basics
THURSDAY at 9am . - Sign Up Here
Drill Team Practice
TUESDAY evening 6pm - Sign Up Here
Please feel free to contact us at any time for more information, class schedules or just questions about your dog. We can be reached via email at packleader@seizetheeleash.com or by phone at 727-686-4246 or 520-751-7772 (message only).
---
Board and Train
Board and Train is an effective, practical training method for most dogs.
Your dog will receive 4–6 training sessions of 10–20 minutes duration on a daily basis while he stays with us. These short sessions will keep his attention and ensure his participation. A thorough, individualized training plan is tailored to every dog. By utilizing positive methods only, your dog will look forward to "training". Lots of exercise and play will also be provided, in an amount that is appropriate to your dog's breed and age.
After completing the program, you will be so proud of your dog's good manners! In a private session of 1–2 hours we will provide you with the information you need to continue and reinforce your dog's training at home.
To help us formulate a plan especially for your dog, fill out and submit our Board and Train Questionnaire and our Training Contract and we will verify availability. Remember that only 1 dog at a time is admitted to this program. Payment reserves your dog's place.
Drop-offs and pick-ups are scheduled by appointment. Arrangements can also be made to pick up your dog at the airport.
Rates for Board and Train:
A three week package includes all basic household "Good Manners", including sit, sit/stay, down, down/stay, a solid, reliable come, leave it, and loose leash walking.
A four week package polishes the above behaviors and further customizes your package. We can even throw in a trick or two.
Board and Train rate is $300 per week.
Because training is an ongoing process, we will not guarantee behaviors. But we will guarantee that you go home with a well mannered dog who has earned both his Canine Good Citizen certificate and his Bachelor's in Canine Life and Social Skills. You will also go home with the tools to maintain your dog's good manners.
---

Canine Life and Social Skills (C.L.A.S.S.)
There are 1000 ways of teaching your dog obedience. You can use a clicker, an e-collar, leash corrections, pushing the dog around, food lures, etc. There are also 1000 ways of dealing with the behaviors your dog does that don't quite fit into your world.

We've started a new program here at Seize The Leash called C.L.A.S.S. which stands for Canine Life and Social Skills. This is a program that has been developed by the Association of Pet Dog Trainers. In reviewing the program before becoming an evaluator, I wanted to see what methods of training were recommended and what the goals of this program are. There was so much about this program that fit with my views of behavior and training, that I couldn't pass up the chance to use it.

This program revolves around play training. There are over 100 games involved in teaching the skills required to pass the three levels of testing (BA, MA and PhD). Each game is so much more then just a game, it's Real Life Set-up. Games such as Pizza Delivery, Bagel Recall, Theme Parties, Do You Really Know Sit, etc. Each games has one or two specific skills it teachs and strenghtens. Each games uses a part of the human world as a distraction or a teaching tool. This is the stuff of magic.
I already use games in my classes, especially Reactive Dog, Shy Dog, Righteous Recalls and Out Of Control class. No one walks away at the end of the hour without having learned something new and improving someting they learned in a previous lesson. And everyone has fun, including the dogs. The dogs get desensitized without boring repetitions of encouraging calming signals or trying to stay under threshold. The dogs get counter conditioned without the humans even realizing it's happening.
Think outside the box, don't limit yourself to someone else's idea of what the solution to your dog behavior problem should be. There are 1000's of ways to solve problems, to calm a dog, to desensitize a dog, to redirect a dog, to teach a dog. Setting limitations can set you and you dog up to fail. Be creative, think outside the box.
Your fear of what your dog "might" do can keep your dog from learning. If you have an aggressive dog and your become afraid of going anywhere, doing anything with your dog, playing even the simplest games with your dog or allowing your dog to have any social interaction at all, that aggression will never abate. Your fear will keep in in place.
And remember, no matter what method of training / teaching / conditioning you use with your dog, your results will only be as good as YOUR committment, focus and persistence.
C.L.A.S.S. is an educational program designed to promote training focusing on the use of positive reinforcement and to strengthen relationships between humans and their canine companions. The mission of C.L.A.S.S. is to promote positive relationships through positive training methods. This approach both develops and safeguards harmonious relationships by maintaining trust and mutual respect.
Developed by the Association of Pet Dog Trainers (APDT), the C.L.A.S.S. program is designed to benefit pet owners and their canine companions, dog trainers and others who work with dogs, animal shelters, and the community overall. In a series of real-life activities through which an owner accompanies his dog, C.L.A.S.S. Evaluators will assess a dog/owner team's core training skills, with options to test advanced training skills. There are three C.L.A.S.S. levels: the Bachelor's (B.A.), Master's (M.A.), and Doctorate (Ph.D.). Successfully completing each C.L.A.S.S. level is like earning an academic degree in real-life skills with your dog.
The Objectives of C.L.A.S.S. are to:
Promote reward-based training

Strengthen dog/owner relationships through shared activity and fun, positive training

Encourage dog owners to participate in ongoing training and activities with their dogs

Value the real-life skills of dog/owner teams

Educate pet owners in dog behavior
To learn more about C.L.A.S.S., visit the program web site at www.mydoghasclass.com. Sign Up Here
---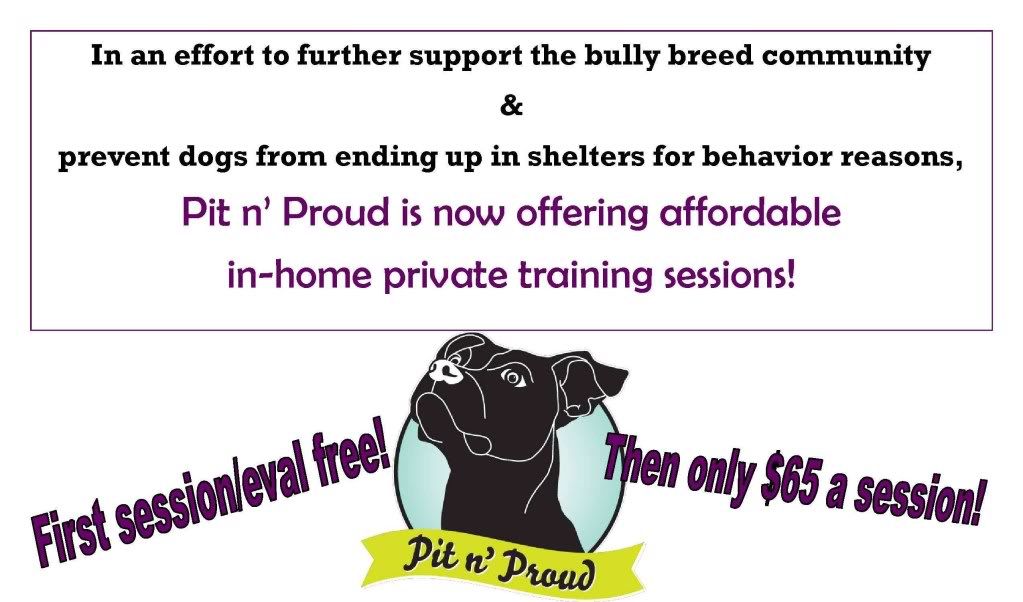 ---
Behavior Problem or Training Problem?
Is your dog digging, chewing, or destroying things? How about refusing to come to you, bolting out the door, or jumping up on you and your guests?
If you answered yes to any of these, your dog has a training problem not a behavior problem. These problems can usually be fixed simply by consistently training your dog everyday. Digging, chewing, and destroying things usually occur because the dog is bored. However, they can also be signs of seperation anxiety.
Training problems occur because the dog simply doesn't know how to act in a human excepted way to any given situation. Therefor, the dog acts out like it would with other dogs in a pack. Jumping up is caused because the dog is trying to lick our lips. The only way for him to reach our lips is to jump. Believe it or not, this is actually a good thing in the dog world, because it signifies that the dog is accepting the guest on his property. When your dog does this to you, he's trying to tell you, "Welcome back! Did you catch a good meal for us? Give me some!" In other words, he thinks you went out hunting, killed and ate some prey, and he wants you to throw some of it up for him to eat! In a pack of wolves or wild dogs, the hunters will often feed the members of the pack left at the den this way. Mostly, the pups. Because we've bred dogs to keep neoteny qualities (puppy qualities) they do this to us throughout their puppy and young adult lives.
Digging is also a training problem rather than a behavior problem. Why? Because it is not a temperament fault, the dog doesn't know not to dig. With training or prevention, this problem can be resolved. This is a common problem in terriers because terriers were bred to be earth dogs. That means they were bred to flush out prey from their burrows. For dogs, digging is a fun activity! It stimulates their minds because there is some problem solving involved. For instance, if a dog is sniffing around the yard and finds some wild onions or walnuts beneath the soil, he has to figure away to get to them to eat them. Therefor, he digs. The reward is that he's figured out the problem and gets the desired object or food. If you have a digger in your home, there are a couple of ways to solve this problem. You can either get a sand box and bury some of his favorite treats in it, and/or make sure he gets plenty of exercise each day. Remember, a tired dog is a good dog!
Chewing is also a training problem. Chewing releaves tension and stress for dogs. If your dog is chewing on things he shouldn't be, it's because he doesn't know better yet. Buy him two or three of his own chew toys that he can chew on whenever he wants, for as long as he wants. Praise him for chewing on just these toys. Make sure that the toys are hard enough that he can't destroy them in one sitting. If you use rawhides to satisfy your dog's chewing needs, then supervise him with it. Some dogs will try to soften the rawhide and swallow it hole, which is a choking hazard. Some people like to use bitter sprays on furniture legs and so on to keep the dog from chewing on those areas. This works with some dogs, but not all.
Ok, so now we've covered some basic training problems. What about behavior problems? Behavior problems are temperament faults. Meaning aggression and food possession. If your dog is growling at you when you pass by him while eating, then he's got a true behavior problem. Behavior problems are not always easily solved. However, establishing dominance (leardership) over your dog will help a lot. Make sure you eat before your dog, and then when you feed him make him work for it by sitting first or laying down. Alpha males and females in a wolf pack always eat first, are infront of the rest of the pack, and they set the rules. If your dog is showing dominant aggression towards you, he doesn't see you as the leader and is trying to enforce his rules.
Seperation anxiety usually occurs because the dog has a strong bond to it's human. When the human leaves, the dog has a kind of panic attack because he's not sure if the human will come back or not. In most cases, serperation anxiety is a behavior problem, because the dog has learned the bad behavior in place of the acceptable behavior. Seperation anxiety can be very difficult to cure in a dog, but preventing it is pretty easy. If your dog has already developed this problem, then talk with your vet about possible prescriptions that can calm the dog down while your gone. Using medication with a training program is ideal. This is a common problem in spaniels because they tend to bond with their humans very quickly and tightly. To prevent seperation anxiety, distract the dog before you leave with a nicely stuffed kong or an ideally sized bone for your dog. You can also crate the dog and give it a treat. The dog will begin to associate you leaving the house with getting a treat and is less likely to develop seperation anxiety. Crating the dog will prevent the dog from injuring himself during a panic attack.
Some dogs have extreme behavior problems. Meaning, they simply want to kill whatever they don't like. These are the dogs that will attack anyone or anything at anytime. If your dog exhibits this kind of behavior, seek a professional in your area immediately!
On the reverse side of "kill" are the scared dogs. These are the dogs that are scared of everything. This could be because of negative associations as a pup, breeders seperating puppies from the mother and littermates too early, or being crated without being let out since puppyhood. Puppies generally bounce back pretty quick, but if these dogs are not properly socialized before maturity, they are more difficult to rehabilitate. However, many people consider handshyness to be a behavior problem, but this is not the case. Handshyness is a training problem because the dog has learned to be afraid of hands. Dogs are not handshy from birth.
In summary, behavior problems and training problems are different. Training problems occur when the dog doesn't know what the owner wants him to do. He thinks he can do what he wants. Behavior problems are inbred problems that occur as temperament faults. Typical behavior problems are food possession, aggression and timidness. Sometimes, behavior problems and training problems intermingle to form bigger problems. Customized training is appropriate in these situations.